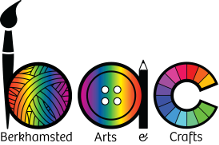 Berkhamsted Arts & Crafts Ltd
29-31 Lower Kings Road
Berkhamsted
Hertfordshire
HP4 2AB
01442 866632
info@bacshop.co.uk
Day of the Week
Open
Close
Monday to Friday
9:00am
5:30pm
Saturday
9:00am
5:00pm
Sunday
Closed
The BAC Newsletter USED to keep you informed of events and classes here at Berkhamsted Arts & Crafts. However, the additional workload associated with implementing the upcoming (May 2018) changes to Data Protection law have lead to our decision to cease the (rather sporadic) emailing of news about BAC.
We will, however, continue to provide newsletter-style information via our Facebook pages.
We apologise for any sadness the loss of the BAC Newsletter may cause.