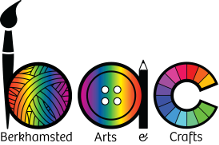 Berkhamsted Arts & Crafts Ltd
29-31 Lower Kings Road
Berkhamsted
Hertfordshire
HP4 2AB
01442 866632
info@bacshop.co.uk
Day of the Week
Open
Close
Monday to Friday
9:00am
5:30pm
Saturday
9:00am
5:00pm
Sunday
Closed
Cross Stitch Day
Saturday 22nd June
10:00am to 12:30pm
Do you need help with anything Cross-Stitchy?
Come and see Laura, at Berkhamsted Arts & Crafts and she can give you some hints and tips

There will also be 10% off everything to do with Cross-Stitch just for that day!
September Sale
Saturday 7th September
10:00am to 4:00pm
Come and grab a (pre-Christmas) bargain in our Super September Sale.
BAC Exhibition
Saturday 12th October to Sunday 20th October
Our customers have all gone home,
the door is locked, we're all alone.

So now it is our time to play,
with paint and beads and sticky clay.

To make fun things with thread and stitch,
to scratch that deep creative itch.

It puts a smile upon our faces,
to explore imagination's spaces.

To flirt with colour and with form,
to whip up mad creative storm.

To see the things that fill our mind,
take on shape, become refined.

But venting our artistic thought,
is only part of what is sought.

For sharing what our minds have seen,
is really living out the dream.

So if you'd take some time apart,
to come and share our humble 'art',

Our efforts would be made worthwhile
and might even bring a knowing smile.


The classroom at the back of the shop will be open from 10am to 4pm Monday to Saturday and 11am to 4pm on Sundays so that you can come and see what creative endeavours we at BAC have been getting up to!