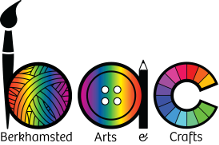 Berkhamsted Arts & Crafts Ltd
29-31 Lower Kings Road
Berkhamsted
Hertfordshire
HP4 2AB
01442 866632
info@bacshop.co.uk
Day of the Week
Open
Close
Monday - Friday
9:00am
5:30pm
Saturday
9:00am
5:00pm
Sunday
Closed
Top
Welcome to the Berkhamsted Arts & Crafts Website
From Wednesday 2nd December, we will be back to our old opening times (see top of the page) until further notice.
Throught December, we will be hosting "Pop Out The Back", a pop-up-shop in the 'classroom' at the back of BAC. The hope is to give local artists and crafters a space to display their creations and to give our customers the opportunity to view, admire and buy them.
"Pop Out The Back" will be up and running from Saturday 5th to Thursday 24th December (Monday to Saturday) and from 10am to 4pm each day (10am-1pm on 24th Dec).
(Please Note: these times and dates might be adjusted depending on the ever-changing state of lockdown/tier restrictions)
We are a proudly independent, family-owned-and-run business based in Berkhamsted (Hertfordshire), where we have been providing for the needs of the local art and craft community for the past 48 years.

Please use the menu at the top of the page to navigate your way around our website ....... and thank you for visting.