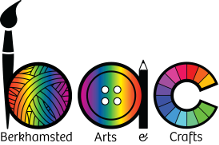 Berkhamsted Arts & Crafts Ltd
29-31 Lower Kings Road
Berkhamsted
Hertfordshire
HP4 2AB
01442 866632
info@bacshop.co.uk
Day of the Week
Open
Close
Monday to Friday
10:00am
3:00pm
Saturday
Closed
Sunday
Closed
Top
Welcome to the Berkhamsted Arts & Crafts Website
We are very happy to serve you at the door (Mon-Fri, 8am-4pm).
We can deliver locally.
We can send suplies by post.

Please ring us (Mon-Fri, 8am-4pm) on 01442 866632 or email orders@bacshop.co.uk with your requirements (please include your postcode and mobile number) and we will do our best to help you scratch that creative itch (whilst maintaining a safe distance! :o).

We also now have video art classes available so you can follow-along-at-home. Please do have a look on our Videos page for details.
We are a proudly independent, family-owned-and-run business based in Berkhamsted (Hertfordshire), where we have been providing for the needs of the local art and craft community for the past 47 years.

Please use the menu at the top of the page to navigate your way around our website ....... and thank you for visting.